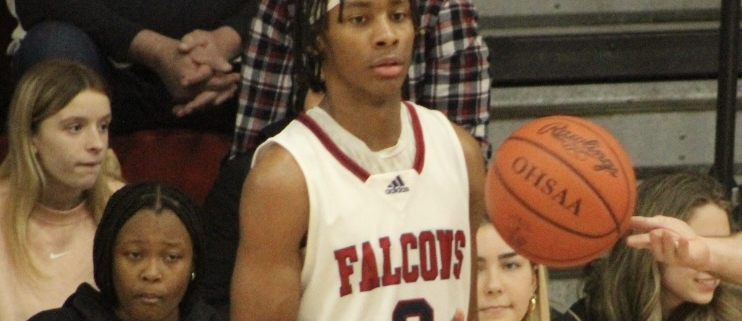 FALCONS SPREAD THEIR WINGS IN THE FOURTH
AUSTINTOWN OH- In an intriguing non-conference Tuesday night matchup, The Copley Indians traveled down to Austintown in a bout with The Falcons. The two schools were scheduled to square-off for the second time in as many years after no previous meetings in the last 20 years between the programs. In the last game, Copley came away victorious after a close game 60-56 in January of 2022. This year both teams went into Tuesday night sporting winning records, setting up an exciting matchup between representatives of both The All-American Conference (AAC) and The Suburban-American Conference!`
The first quarter saw The Indians take an early lead, with Copley getting Trent Wininger and his distance shot going in the first quarter. Fitch had an answer that came in the form of Marcel Finkley and Gianni Maley, as the guard combo found their rhythm and propelled The Falcons to a 16-7 lead after a quarter. Finkley and Maley kept up the scoring consistency through the second, while Wininger found another shot from distance for Copely. Fitch was a point better in the second quarter and led 26-16 by the halftime buzzer. 
Starting out the second half, Copley cleaned up the turnovers that plagued them the two quarters prior. Pair that with Wininger continuing to splash home shots from the arc and The Indians came roaring back in the third quarter, cutting the Fitch lead down to just two points during the quarter. The Falcons sophomore guard Marcel Finkley would have his biggest quarter of the night, scoring ten points in just the third quarter alone and keeping Fitch in front heading to the final quarter of play. Austintown kicked up the defensive intensity in the final eight minutes and once again started to force turnovers from Copley. Gianni Maley would have the next big quarter as the senior scored ten in the fourth as both he and Finkley finished with 24 points a piece on the night. The Falcons out scored their adversaries 21-7 in the fourth to eventually fly away with the 65-44 win, their ninth of the season.
The loss will keep Copley (6-6) on the road, as they will head to Aurora (2-7) to try and gain their second victory of the season against The Greenmen. While Fitch (9-4) will be dealing with a green monster themselves, heading to John J. & Janet Cafaro Gymnasium for a date with Ursuline (11-1) on Friday night! It will be a battle of two teams ranked in the top five of The YSN Power Rankings and it will be live on YSN! Interviews with winning Head Coach Brian Beany and Player of The Game Marcel Finkley can be found below! 
Scoring (Fitch)
Marcel Finkley: 24 PTS. (Player of The Game)
Gianni Maley: 24 PTS.
Allen Hill: 6 PTS.
Carter Owens: 3 PTS.
Allex Hill: 2 PTS.
Lucas Ardino: 2 PTS.
Cam Jaros: 2 PTS.
Johnny Ruggles: 2 PTS. 
Scoring (Copley)
Trent Wininger: 16 PTS.
Noah Edinburgh: 7 PTS.
Wendell Parks: 6 PTS.
Ben Firestine: 6 PTS.
Christian Hood: 5 PTS.
Alex Carillo: 2 PTS.
Scooby Stanford: 2 PTS. 
Scoring by Quarter
Q1: Fitch 16 -7 Copley
Q2: Fitch 10 – 9 Copley
Q3: Fitch 18 – 21 Copley
Q4: Fitch 21 – 7 Copley
Final: Fitch 65 – 44 Copley
*Contributed By YSN's Ty Bartell
https://ysnlive.com/wp-content/uploads/2023/07/0C94BC0F-647A-4CFC-AF76-4FAC23A6DE45.jpeg
473
742
Anthony Hartwig
https://ysnlive.com/wp-content/uploads/2023/08/Default-Email-Signature-2673571-300x70.png
Anthony Hartwig
2023-01-19 07:33:39
2023-01-19 07:33:39
FALCONS SPREAD THEIR WINGS IN THE FOURTH