HOT CORNER: WITH SPECIAL GUEST AILEEN MORALES
Happy September 1st! Very happy for the Class of 2022s who can now officially be contacted by college coaches. How exciting for all the young players who have gone through a summer of uncertainty. I just want to say that despite the craziness of 2020 so far, you don't have to rush the process. Everyone makes decisions at different paces. If one of your teammates or friends commits, it doesn't mean you have to. Whatever school you choose, it has to be the right fit for you. With that being said we have another exciting edition of Hot Corner today. First we shine a spotlight on a 2022 and new member of our friends the Ohio Hawks 16U- Hutchinson, Bailey Manos. And I'm very excited to introduce the special guest for this week Georgia Tech Head Coach Aileen Morales.
Spotlight: Bailey Manos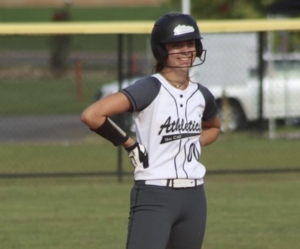 Bailey is a class of 2022 from Harrison high school. According to stats on MaxPreps, in 2019 Manos hit at an average of .389. She didn't get much action in the circle in her freshman season at Harrison, but believe me when I say Bailey is a duel threat. She has quick speed out of the left handed batters box. She also has great speed on her pitches. Watching highlights from this weekend on "Hawks Day" it is clear Bailey is not afraid to control the inside corner. She also can throw off speed down in the zone. I'm very excited to see what Bailey will do in the fall season with the Hawks. This edition is also released on her birthday. So happy birthday from the Hot Corner!
Special Guest: Aileen Morales
(Danny Karnik Georgia Tech Athletics)
Aileen Morales played for Georgia Tech from 2005-2008. She remains one of the most decorated student athletes in the softball program at Tech. She was recently put in the Georgia Tech hall of fame. After her time at Tech Morales played with the Puerto Rico National Team from 2007-2010. She also played professionally with the Chicago Bandits from 2008-2009. She went back to Tech to start her coaching experience. She was an assistant coach from 2010-2013. Later on Morales would take a head coaching job at Radford. She took a program over that had won just 12 games in the season before. She orchestrated the biggest turn around in NCAA softball as Radford went 35-26 in her first season. That coaching trend didn't stop when she took over the helm at Tech. A program on a postseason drought, Morales led Tech to their first ACC tournament birth since 2014. She heads in to her fourth season at Tech in 2021. I'm very excited to have the opportunity to have coach Morales as guest.
[embedyt] https://www.youtube.com/watch?v=eHR75Ve1n4Q[/embedyt]
https://ysnlive.com/wp-content/uploads/2023/07/99B09D6B-FCD5-4999-AE86-C2C4A5D892DC-scaled.jpeg
1707
2560
Anthony Hartwig
https://ysnlive.com/wp-content/uploads/2023/08/Default-Email-Signature-2673571-300x70.png
Anthony Hartwig
2020-09-01 18:36:27
2023-07-14 18:27:53
HOT CORNER: WITH SPECIAL GUEST AILEEN MORALES