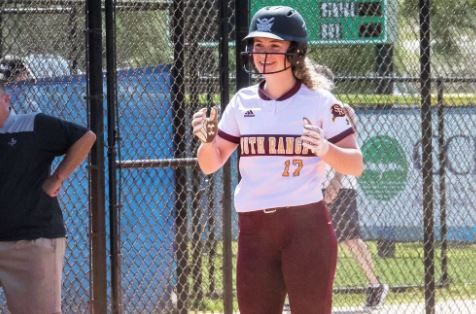 KOHLER SPARKS SOUTH RANGE OVER LAKEVIEW
CANFIELD, OH- South Range Sophomore, Bree Kohler, was bad news for opposing pitchers on Monday, driving in five on one hits to lead the South Range Raiders past Lakeview 10-2 in their first game of the year.  Kohler drove in runs on a home run in the first, a fielder's choice in the second, as well as in the fourth.
South Range opened up scoring in the first inning, when Bree Kohler homered on a 1-0 count, scoring three runs.  The Raiders scored three runs in the fourth inning as well. The offensive firepower by South Range was led by Drew Feren, Kohler, and Hanna Dennison, all driving in runs in the inning.
The headaches didn't end there for Lakeview, as Kohler also pitched the burgundy and gold to victory. She allowed three hits and two runs over seven innings, striking out 15 and walking none.
For Lakeview, Cair Kelm took the loss. She surrendered ten runs on eight hits over six innings, striking out three.
Senior, Marlaina Slabach went 2-for-3 at the plate to lead South Range Raiders in hits.
"Powered by Narrative Science and GameChanger Media. Copyright 2019. All rights reserved." 
https://ysnlive.com/wp-content/uploads/2023/07/kohler-happy.jpg
314
476
YSN Staff
https://ysnlive.com/wp-content/uploads/2023/08/Default-Email-Signature-2673571-300x70.png
YSN Staff
2019-03-26 03:20:45
2019-03-26 03:20:45
KOHLER SPARKS SOUTH RANGE OVER LAKEVIEW