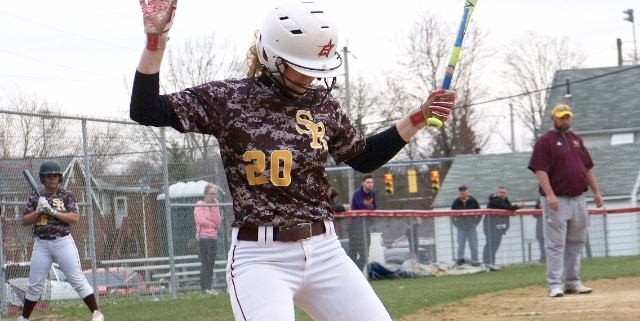 RAIDERS CELEBRATE SENIORS WITH BIG WIN
Brooke Sauerwein came the ballpark and meant business on Monday, driving in five on three hits to lead South Rang past McKinley 21-1 on Monday.  Brooke Sauerwein drove in runs on a single in the first and a single in the second.
The Raiders secured the victory thanks to 12 runs in the second inning.  Brooke Sauerwein, Kali Dudich, Hanna Dennison, Reagan Irons, Emily Protain, and  Taylor Smesko all moved runners across the plate with RBIs in the inning.
The Raiders got things started in the first inning when Bree Kohler singled on a 2-0 count, scoring one run.
South Range put up 12 runs in the second inning.  The offensive onslaught came from singles by Brooke Sauerwein, Kali Dudich, Reagan Irons, and Emily Protain, walks by Taylor Smesko and Mallory Vidman, a fielder's choice by Kali Dudich, an error on a ball put in play by Brooke Sauerwein, and a double by Hanna Dennison.
Bree Kohler took the win for the Raiders. She went two innings, allowing zero runs on zero hits, striking out four and walking zero.  Reagan Irons and Emily Protain entered the game out of the bullpen and helped to close out the game in relief.
Melius took the loss for McKinley. She surrendered 21 runs on 14 hits over four innings.
The Raiders collected 14 hits.  Brooke Sauerwein, Hanna Dennison, and Bree Kohler each managed multiple hits for South Range Raiders.  Brooke Sauerwein led the Raiders with three hits in three at bats.  South Range didn't commit a single error in the field. Kali Dudich had the most chances in the field with six.
Powered By Narative Science and GameChanger Media. Copyright 2019. All Rights Reserved
https://ysnlive.com/wp-content/uploads/2023/07/D81B7A08-199D-41D2-A923-F32C6C3ECCCC.jpeg
460
640
Anthony Hartwig
https://ysnlive.com/wp-content/uploads/2023/08/Default-Email-Signature-2673571-300x70.png
Anthony Hartwig
2019-05-07 01:40:21
2019-05-07 01:40:21
RAIDERS CELEBRATE SENIORS WITH BIG WIN