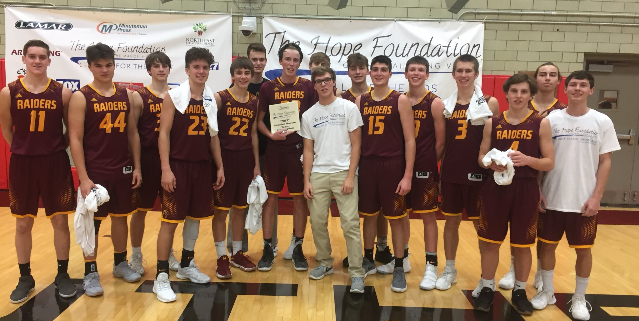 RAIDERS OUTLAST HORNETS, REMAIN PERFECT
The Raiders boys basketball team just 1 day removed from a victory over Crestview had to dig deep to beat Malvern 58-52 and remain perfect on the season.
In the 1st quarter both team came out swinging. Mike Cunningham was able to knock down a three to put the Raiders up 15-13 late in the frame but the Hornets answered right back and exited the quarter with a 16-15 lead.
The Raiders offense struggled to find rhythm in the 2nd quarter and more three point shooting from the Hornets gave them a sizeable advantage. The Raiders were able to muster 9 points in the quarter to keep the Hornets from running away with the game. At halftime the Raiders trailed 33-25.
The 3rd quarter was where the Raiders really shined. They opened the 2nd half on a 11-2 run capped off by two free throws from Jaxon Anderson to go up 36-35 and they would never surrender that lead Chris Brooks was a big reason why the Raiders dominated in the 2nd half ballooning his total to a season high 13 before the end of the 3rd quarter. The Raiders went into the final stanza with a 44-38 lead.
The Raiders ball movement and time management in the 4th quarter was the key to holding on to the lead. The Hornets made attempts at dramatic comebacks but just couldn't get enough possessions to gain any momentum. The closest they got was 5, and at that point the Hornets went to steal a pass but instead were called for a foul. The Hornet defender slammed the ball down in frustration and was rewarded with a technical foul which gave the Raiders two free throws and the ball. This gave the Raiders a 7 point lead. The Raiders would go on to win 58-52.
Mike Cunningham lead the Raiders with 15 points while Chris Brooks added 13, Jaxon Anderson was also in double figures with 12. The boys return to action Tuesday as they host Tallmadge. JV will begin at 5:30.
https://ysnlive.com/wp-content/uploads/2023/07/IMG_1649-e1512878482899.png
456
639
Bryon Scott
https://ysnlive.com/wp-content/uploads/2023/08/Default-Email-Signature-2673571-300x70.png
Bryon Scott
2017-12-10 03:56:32
2017-12-10 03:56:32
RAIDERS OUTLAST HORNETS, REMAIN PERFECT