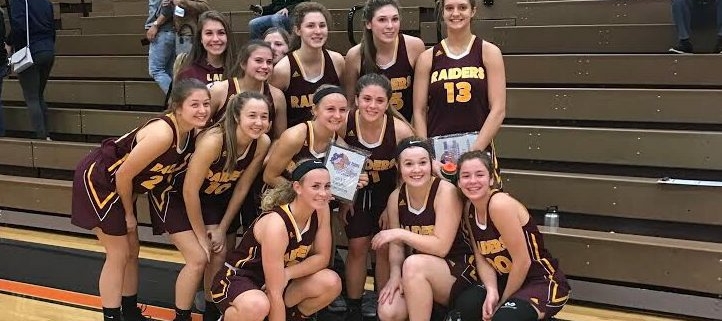 RAIDERS REIGN SUPREME IN EARLY TOURNEY
The Lady Raiders came out strong to start the game forcing 5 turnovers on Howlands first 5 possessions and jumping out a 9-0 lead before 2 minutes had passed. Howland would respond however with s 10-2 run to end the quarter, as the Raiders hung on to a 11-10 lead after 1.
Howland pushed hard in the 2nd quarter outscoring the Raiders 16-12 in the frame, the Raiders were able to stay in the game by driving and forcing fouls. They would go into the locker room trailing 26-23.
The 3rd quarter started much like the 1st as the Raiders used disruptive defense by freshman Bree Kohler to help spring out to a 8-0 run to grab back a 31-26 lead. But Howland would not go away as Mackenzie Maze cut the Raider lead to 31-30. Maze finished with a game high 20 points  for the Tigers. But the Raiders answered as junior Bri Modic hit back to back three pointers to push it to 37-30. Howland would push back yet again but the Raiders took a slim 43-42 lead into the 4th quarter.
In the 4th frame freshman Danielle Vuletich got herself into double figures with a pair of free throws to make it 45-42 Raiders, and they would never look back. Junior Brooke Saurwein scored 6 of the last 8 Raider points and they would go on to win 55-51. The Raiders take home the Toni Ross Spirit Foundation championship and Maddie Durkin was named the tournament MVP scoring 14 points tonight and 28 in her 2 games. Vuletich was also in double figures tonight with 13 while Izzy Lamparty, Bri Modic, and Brooke Saurwein all added 8.
The Raiders move to 2-0 and will host Salem on Monday November 27th, JV starts at 6:00.
https://ysnlive.com/wp-content/uploads/2023/07/img_4816-e1511707845670.jpg
415
722
Anthony Hartwig
https://ysnlive.com/wp-content/uploads/2023/08/Default-Email-Signature-2673571-300x70.png
Anthony Hartwig
2017-11-26 04:11:31
2017-11-26 04:11:31
RAIDERS REIGN SUPREME IN EARLY TOURNEY