STREETSBORO, OH- The Canfield Cardinals and the Salem Quakers survived the district semifinal round to advance to the district title. The Cardinals got past the Warriors with a second half push outscoring West Branch 22-13 in the second half to win the district semifinal 44-28.
West Branch came out with an early advantage leading 8-5 after the first quarter. The Warriors had the lead throughout the second quarter until Canfield went on a 10-1 run in the final three minutes of the second quarter to lead 22-15 at halftime. The Cardinals would hang on in the second half to win it 44-28. Canfield was led by sharp shooter Carlie Harmon who knocked down four three-pointers in the contest. Behind Harmon was Camie Dill with 11 points and Kate Sahli with 10 points. For West Branch, Youngstown State commit Sophie Gregory scored 14 points to lead all scorers, while forward Livvie Showalter contributed 7 points in the game.
Canfield improves to 23-1 on the season and have now won 15 consecutive games into the postseason. West Branch finished the year 13-12 after stunning number 6 ranked Edgewood in the sectional final by a score of 50-44. The lady Warriors finished the year winning 9 out of there last 11 games.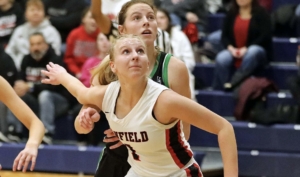 As for the number two ranked Salem Quakers, they used a second half push as well to win by 31 points over the Howland Tigers in the district semifinal. The Tigers came out with a 2-3 zone which slowed down the Quakers offense in the early going, but Salem was able to force steals which led to transition points with a 10-7 advantage after the first quarter. The Quakers defense locked up the Tigers in the second quarter, only allowing 4 points to take a 21-11 lead at the half. Salem was shot out of a cannon in the second half showing there true self on the offensive side putting up 21 points in the fourth quarter as Salem won the ballgame 53-22 to get to the district final in back-to-back years.
The Quakers were led by Rylee Hutton who weaved to the basket all night long scoring 15 points, while Abbie Davidson was clicking on both offense and defense to score 13 points for the Quakers. Howland was led by Gia Hoso who scored 6 points on the night, while Salem did a fantastic job of limiting Howland's best scorer Alyssa Masucci to just 3 points, all coming in the first half.
Salem is now 22-2, and will take on the Canfield Cardinals in a regular season rematch for the district title, where the Quakers beat Canfield on the road 47-33 on December 21st. Howland finished 12-13 on the campaign. The district title game will be played in Streetsboro on Saturday at 6 P.M.
https://ysnlive.com/wp-content/uploads/2023/07/S.png
2976
4464
Richie Juliano
https://ysnlive.com/wp-content/uploads/2023/08/Default-Email-Signature-2673571-300x70.png
Richie Juliano
2023-02-23 16:58:08
2023-07-15 05:10:05
CARDINALS AND QUAKERS MEET IN DISTRICT FINAL ON SATURDAY