One weekend ago at the perfect storm tournament held by Thunder Elite, it was clear that a lot of teams had rust to shake off after going so long without softball. It led to a lot of lopsided final scores over the weekend. A week later it is safe to say all the rust is off. Man what a competitive weekend at the D1 Fastpitch Summer Showcase helps at McCune Park in Canfield, and Field of Dreams in Boardman. The weather was great, and I watched a lot of softballs this weekend, which put me in my happy place.
There were a couple of teams I followed this weekend. Let's talk about the USSSA Pride Scarlet team containing a ton of local talent. Last weekend their offense was incredible, and they looked just as good this weekend. Maris Barbato leads off for the Pride, and talk about a starting off a lineup with a bang. Barbato hit 4 home runs over the weekend. 3 in three consecutive games. That wasn't the end of the Pride's power though, as Sydney Mercer and Sommer Bourne also left the yard. When you combine their poet on offense to really solid arms in the circle, the Pride become an extremely dangerous opponent. Highlights of their Saturday games can be found at the bottom of the page.
The best pitching performance I saw all weekend was without a doubt Maci Boggess for the Ohio Lasers-Yellow. I watched her shut out a really good Wolfpack team to close out the Laser's Saturday. Then on Bracket Play Sunday she shut out the Outlaws-Harbold. A couple of hours later in the Laser's next Bracket game against an older more experienced Firecrackers PA-Griffin team, she only surrendered 1 ER on 2 hits. She gave up a leadoff triple that a RBI groundout would eventually score. Unfortunately, the Lasers offense couldn't find a rhythm and the Lasers dropped the game 1-0. Maci does a fantastic job using both sides of the plate. She also can mix speeds pretty well. She has a great spin on her pitches and when she's on, she's super hard to hit. She was the Lasers workhorse over the weekend, and never showed signs of fatigue. Maci is an uncommitted class of 2023 out of Winfield West Virginia. Keep an eye on her as the years go by.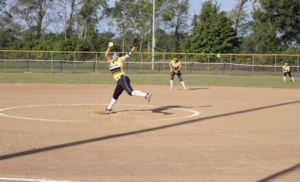 (Photo Credit: Tammy Justice)
On Sunday I took a trip to the Field of Dreams to see the Outlaws Demarini-White team. South Range's Bree Kohler had a productive first weekend of travel ball in the circle and at the plate. On Saturday she pitched against Ohio Lasers Blue which is widely considered to be not just a top team in the state, but the country. Bree finished with 7 K's and surrendered just 3 hits. The Outlaws won the game 5-3. The Outlaws also feature PGF All-American, and future Missouri Tiger Riley Frizell. Being someone who has a lot of connections and family in Kansas City who are big Missouri fans themselves, I was very excited to get to see Riley in action. She's going to do big things in Columbia.
That'll do it for the recap of the D1 Fastpitch Summer Showcase. My biggest takeaway, especially with the handful of teams that also played in last weekend's action is how much smoother the players looked after just a week of getting back on the field. I saw a lot fewer errors in the field, pitchers hitting a lot more of their spots, and hitters making quick adjustments to pitchers.
[embedyt] https://www.youtube.com/watch?v=4M6w2ffAZ9U[/embedyt]
https://ysnlive.com/wp-content/uploads/2023/07/F8601B8F-4F4A-43AD-A3D4-0E3E76CE91FF.jpeg
263
618
Anthony Hartwig
https://ysnlive.com/wp-content/uploads/2023/08/Default-Email-Signature-2673571-300x70.png
Anthony Hartwig
2020-06-09 21:11:31
2023-07-14 17:52:36
HOT CORNER: D1 SUMMER SHOWCASE RECAP