By Ty Bartell
"Basketball is a beautiful game when the five players on the court play with one heartbeat." (-Dean Smith)
Few truer words have been spoken then those of former legendary North Carolina Tar Heels Coach Dean Smith and no team exemplified that quote more this year in the state of Ohio than The Archbishop Hoban Knights! All the old quotes were present throughout The Knights run to The State Championship game. Highlighted and filled with plenty of great defensive stands and unselfish offense. Writing plenty of chapters along the way in their incredible journey, one final mountain would stand in the way of Hoban recapturing a state title for the first time since 1989 and that was getting through defending state champions The Pickerington Central Tigers. 
As the saying goes "to be the man, you gotta beat the man." (-Ric Flair) and The Tigers, led by Coach Eric Krueger have proven to be that team time and time again as Coach Krueger has compiled an impressive record of 200-52 in his nine year career at Pickerington Central. The Tigers also featured, none other than Mr. Basketball of 2023 himself, Devin Royal. The senior Ohio State commit Royal averaged just under 20 points per game this season and has been nothing shy of an unstoppable force! However, The Knights had plenty of talent on their own roster and were led by legendary longtime Hoban Head Coach and Principal T.K. Griffith. After a 30 year tenure and a 25 year drought of making it to the final four, Coach Griffith led his Hoban Knights back to the state title game, only the last time he did it, he was a participant of the 1989 Division 3 State Championship team. 
Out of the opening tip, both teams made it very clear that defense would be at the forefront of both squads strengths. Both teams held a lead in the opening quarter, as an immediate matchup was between Devin Royal and Hoban freshman Sam Greer. After not starting until January, Greer has quickly made himself one of the key pieces in The Knights rotation and was being asked to guard the most dangerous threat on the team with the biggest stage set. A buzzer-beating three put The Tigers up after eight minutes of play 14-12. Hoban, sticking with their usual rotation this playoffs, had a great moment where the arena saw "Mr. Football" Lamar Sperling guarding "Mr. Basketball" Devin Royal. Pickerington Central tried to build on their lead several times throughout the first half, but could not amass a two possession advantage. Instead, Knights senior Logan Vowles made The Tigers pay from distance multiple times over the course of the game, as it felt like if a big three was needed, just repeat your Vowles! Greer got involved, scoring buckets in the low-post, helping Hoban hold a slim lead at halftime 26-25. 
With a whole halftime to make adjustments, both teams somehow clamped down the defensive pressure even more. As points were at a premium more than ever during the third quarter of The State Championship contest. Few buckets were scored and a lot of live-ball turnovers occurred; However, Pickerington Central was a point better in the third 6-5, allowing them to tie the game up at 31 points a piece heading into the final quarter of play. The storybook ending was set for one of these teams, and as it usually does, it came down to who was going to get the game-differentiating run first. Hoban ensured it was them! Coming out of the quarter break like they were shot out of a cannon, The Knights spread the ball passing up good shots for great shots and most importantly, did not miss when the opportunity crossed them! Jumping out to a 12 point lead in the fourth, while The Tigers had to hop on the comeback trail. Time would become a major factor, as it quickly started ticking away for Pickerington Central. Despite the 11 lead changes the game saw, key turnovers from The Tigers paired with a 72% fourth quarter shooting clip from The Knights and Hoban hoisted their first State Championship Banner since 1989! 
The win writes the final chapter in an incredible story about an incredible team led by one incredible coach! T.K. Griffith has exemplified what Hoban means for 30 years and now will have another state championship to show for it! A group of seniors that have been playing with each other their whole lives and had plenty of talent, but they knew they needed more to get to the big stage. Hoban needed hardwork, they needed passion, but most importantly they needed family. Congratulations to The 2022-2023 Ohio Division 1 State Champions, The Archbishop Hoban Knights!
Scoring (Hoban)
Logan Vowles: 17 PTS, 7 REB, 1 STL.
Will Scott Jr: 13 PTS, 8 REB, 1 AST, 1 STL.
Sam Greer: 12 PTS, 5 REB, 2 AST, 3 STL.
Andrew Griffith: 9 PTS, 5 REB, 1 AST.
Jonas Nichols: 2 PTS, 3 REB, 5 AST, 4 STL. 
Scoring (Pickerington Central)
Devin Royal: 15 PTS, 8 REB, 2 AST, 1 STL.
Gavin Headings: 12 PTS, 8 REB.
Markell Johnson: 11 PTS, 2 REB, 2 AST, 2 STL.
Amare Spiva: 4 PTS, 1 REB.
Juwan Turner: 3 PTS, 5 REB, 1 AST, 2 STL.
R.J. Keuchler: 2 PTS, 1 REB, 1 BLK.
Andrew Hedgepeth: 4 REB, 1 AST, 3 STL.
Scoring by Quarter
Q1: Hoban 12 – 14 Pickerington Central
Q2: Hoban 14 – 11 Pickerington Central
Q3: Hoban 5 -6 Pickerington Central
Q4: Hoban 22 – 16 Pickerington Central
Final: Hoban 53 – 47 Pickerington Central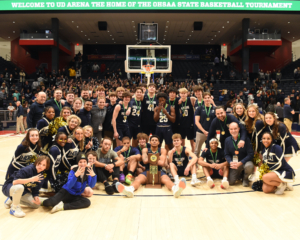 https://ysnlive.com/wp-content/uploads/2023/07/6D6D54F3-D17C-42E1-92C7-E6FDDDEC5731.jpeg
769
1220
Anthony Hartwig
https://ysnlive.com/wp-content/uploads/2023/08/Default-Email-Signature-2673571-300x70.png
Anthony Hartwig
2023-03-20 14:43:41
2023-07-15 05:28:15
CELEBRATE! HOBAN WINS THE 2023 STATE CHAMPIONSHIP