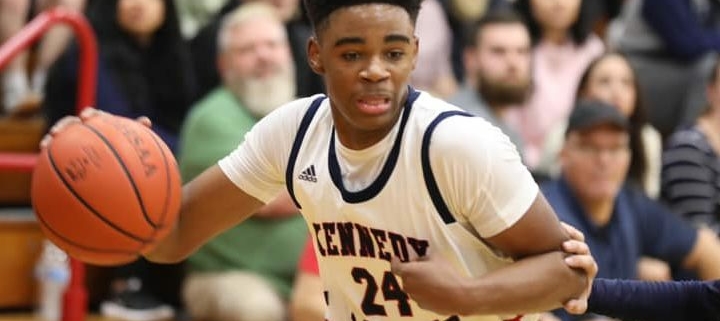 VIKINGS STEAL WIN FROM JFK
WARREN, OH – Saturday night the boy's varsity basketball team of John F. Kennedy hosted Villa Angela-St. Joseph in the Gillen Gymnasium. It was a close back and forth battle, but the Vikings came out on top with a close scoreline of 77-74. 
The first half of the game had several lead changes, and the largest point differential was 8 points. Kennedy junior Cam Hollobaugh ended the first half with a total of 13 points with one 3 and also added style points for passing the ball between a VASJ defender to Bobby Plizga for a score. On VASJ's side of the ball, Jaden Hameed scored 14 points in the first half. Jaden Hameed also ended the first quarter with a last-second long two-point shot close to the buzzer. The half ended with the Vikings up by one 34-33. 
While the first half of the game was somewhat clean, the second half seemed to play rather sloppy on both sides of the ball. The Eagles seemed to have a tough time holding on to the ball and turned over multiple times in the first half. However, Cam Hollobaugh of Kennedy answered back with many steals in the second half and tried to drag his team back on top. Sean Johnson on VASJ completed the 3rd quarter with 12 points and 20 points in total. VASJ ended the quarter up by 3, 54-51. 
The fourth quarter consisted of many turnovers and messy play on both sides of the ball. Saba Svani of Kennedy ended up fouling out of the game. Jaden Hameed saw himself taking foul shots 10 times alone in the quarter. Kennedy tried to outscore the Vikings by putting 23 points on the board, but VASJ did the same. With 8 seconds remaining in the game, Kennedy tried to make one last drive down by 3. A pass was handed to Bobby Plizga who attempted one last desperation shot, but unfortunately, it did not fall through. The Vikings survived the battle and won 77-74. 
Leading scorer for Kennedy was Cam Hollobaugh with 27 points, 3 for 3 at the line, while TJ Harden finished with a baker's dozen (13).  VASJ's leading scorer was Jaden Hameed with 29 points, 7 for 10 at the line. Kennedy will go 6-12 on the season and VASJ will go 7-9.
*Story contributed by YSN's Dom O'Brien
https://ysnlive.com/wp-content/uploads/2023/07/83351690_596912101089010_3371741540031397888_n-e1581347583905.jpg
439
720
YSN Staff
https://ysnlive.com/wp-content/uploads/2023/08/Default-Email-Signature-2673571-300x70.png
YSN Staff
2020-02-10 15:13:16
2020-02-10 15:13:16
VIKINGS STEAL WIN FROM JFK