CANTON OH- For the first time since 2010, the Ursuline Fighting Irish were back in the state championship and had a chance to get their fifth state title and coach Reardon's fourth.  However, in order to win that state title, you'd have to go up against a 26th year head coach in Dan McSurley who has five regional championships and was looking for his third after going back to back in 2012 and 13. Beating St. Clairsville and Cardinal Mooney at Tom Benson Hall of Fame Stadium. 
The Falcons got off to a fast start by running the ball and draining the clock for 9:13 seconds.  They finished their drive by a Carson Van Hoose two-yard touchdown off the hand off from quarterback Kody Zantene, and with a PAT by Ean McGuiness it was 7 to 0.  
However, after that, it was all Urusline in the first half.  The Irish got on the board with two DeMarucs McElroy touchdowns.  One from 34-yards and a one-yard score along with a two point conversion by Ty'Req Donlow made it 15 to 7.  When the running game opens up, with Brady Shannon finding Jakylan Irving 39-yards out before the end of the half making it 21 to 7 and at this point, it seemed that Dan Reardon was going to win that fourth title and that Shannon as well as the other seniors in McElroy, Boyd, Pad McCarthy and Dorion would end their season on a high note with a ring.  Even with an overturned call which was originally reviewed a fumble then to an incompletion, the Irish still had the momentum on their side. 
However, the second half was a changer.  McElroy couldn't run much as the defensive line stacked the box and shifted on the Falcons side, led by Colton Trampler who plays on both sides of the ball.  The Irish opened up with a Shannon to Dean Boyd 26-yard touchdown pass making it 28 to 7, but then Clinton Massie came back to the rushing game with the quarterback Zantene taking it himself, breaking through the Irish tacklers and taking it 49-yards making it now 28 to 14. Ursuline was forced to go three and out again after they ruled a Shannon to Boyd pass incomplete which on some parts looked as if Boyd still maintained control before the ball came out.  The Irish also had a fake punt call back from Marc Manning to Boyd which forced the Irish to punt again. 
Because of that, the Falcons continued to ground and pound with the running game of Vanhoose, Colton Trampler and Carter Frank.  The Irish defense forced a fumble, but it advanced in the endzone and recovered for a touchdown, cutting it to a seven point lead.  
Ursuline was forced to punt after a three and out by the Falcons and Clinton Massie ended using the ground and pound game all the way for six with both Vanhoose and Zantene with the touchdown and two-point conversion making it 29 to 28.  Ursuline had one more chance with 45 seconds, but Shannon was pressured and hit as he let go of the ball, falling incomplete as Clinton Massie, the Falcons, have won their third Division IV State Title in their fourth appearance with the final of 29 to 28 over the Ursuline Irish who just three years ago, had records of one and nine and two and eight, but just come up short in the end. 
Irish Stats 
Ursuline: 
Shannon: 15 of 28 for 185 yards and two touchdowns.  Nine rushing attempts for 28 yards
McElroy: 26 rushing attempts for 157 yards and two touchdowns.  
Boyd: six receptions for 69 yards and one touchdowns. 
Irving: three receptions for 72 yards and a touchdown. 
Will Burney: three receptions for 30 yards 
Marc Manning: three receptions for 14 yards.
Falcons stats 
Clinton-Massie: 
Zantene: one of three for one yard, seven rushing attempts for 85 yards and two touchdowns.  
Trampler: 19 rushing attempts for 117 yards 
Van Hoose: 15 rushing attempts for 102 yards, and a touchdown.  One reception for one yard. 
Up Next: 
Both teams will get ready for the offseason with the Ursuline Irish being state runner ups, their second state runner up and start the weight room training sessions soon and get ready for the 2022 campaign. Clinton Massie meanwhile, will win their third state title and will get ready for their 2022 campaign.  Can we see a rematch between these two? Only time will tell.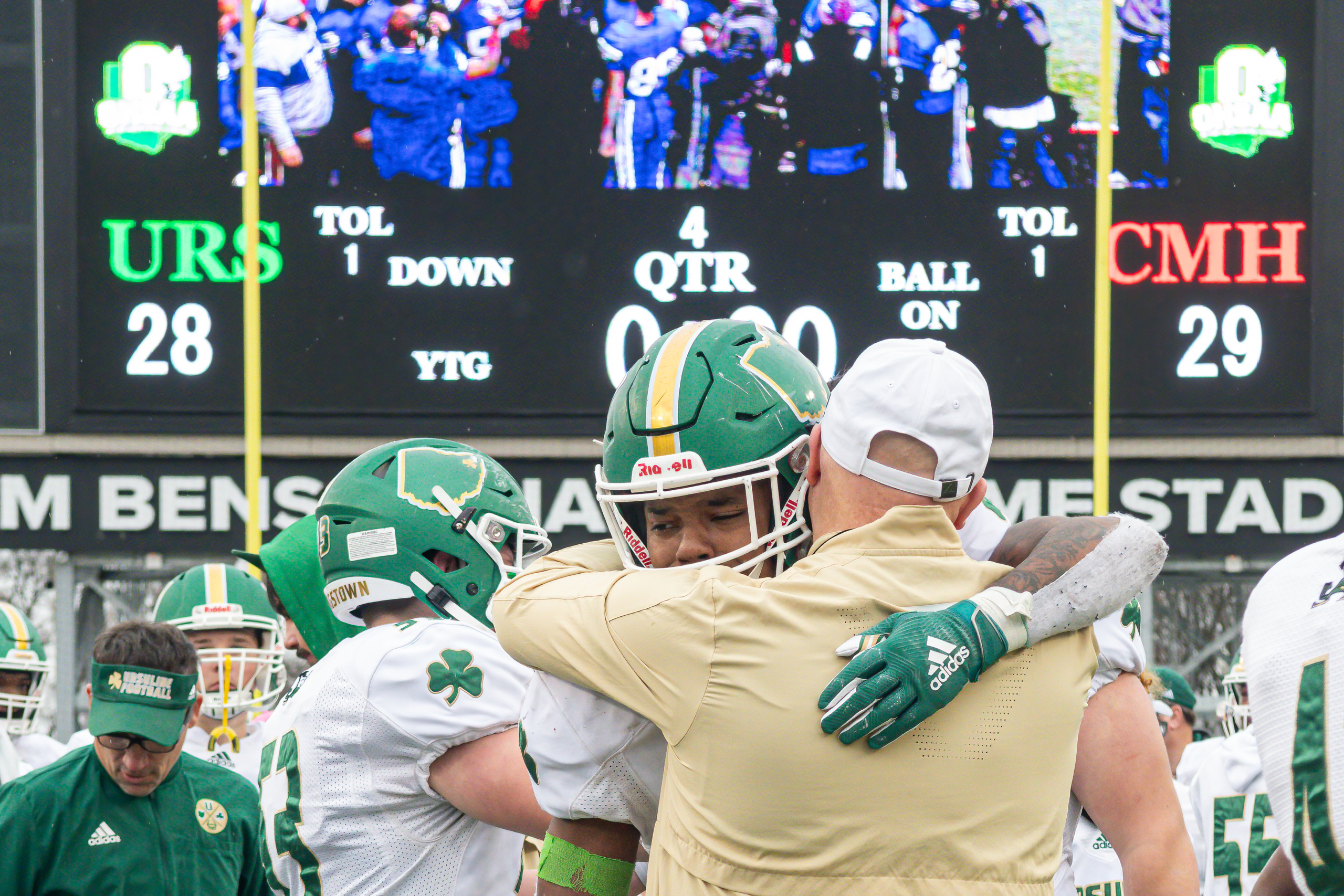 *Contributed by YSNs Ian O'Brien*
https://ysnlive.com/wp-content/uploads/2023/07/2FEB2E9D-C465-438E-9003-61206A13B10E-scaled.jpeg
1706
2560
Anthony Hartwig
https://ysnlive.com/wp-content/uploads/2023/08/Default-Email-Signature-2673571-300x70.png
Anthony Hartwig
2021-12-04 14:33:10
2023-07-14 22:49:49
URSULINE COMES UP JUST SHORT IT STATE FINAL