DEVILS FIND A WAY TO COMPLETE COMEBACK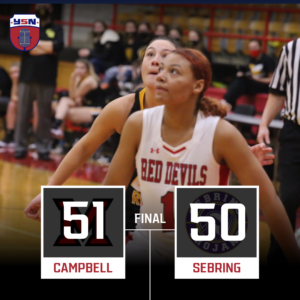 CAMPBELL OH- The basketball season got tipped off on Friday night, and Campbell christened their brand new floor with an opening day win. The Devils only led for 3.8 seconds of game time, but it was the final 3.8 seconds. Junior Maddison Shuger drained her first three of the game to pull the Devils ahead to victory over Sebring 51-50.
Sebring had control early, they took the 7-1 lead out of the jump, and led 15-8 after a quarter of play. They would push their lead to 25-15 just before half, but as the clock winded down Shawj Sims hit a three to give the Devils momentum into the locker room.
Campbell came out of the break with fire. they would eventually cut the Trojan lead down to two. However, the Trojans pushed back as the second half went on. Thanks in part to Devyn Reggi who had a phenomenal second half. The Trojans led 48-38 with 2:40 left. Campbell proceeded to go on a 13-2 run to cap off their comeback win.
Campbell's lone senior Cayla Marshall willed her team to victory and scored a game-high 25 points for the Devils. Shuger also finished in double figures with 15 points. Sims added an important 7 points to the cause.
For Sebring, Reggi finished a great night with 20 points. Blake Thomas was also in double figures for the Trojans with 14 points.
Campbell opens the season with a win and is 1-0. They only got 2 wins last year, but this looks like a different Campbell team. They'll look to keep things going Monday as they travel to Hubbard. Sebring will try to bounce back on Monday with their home opener against Leetonia.
Postgame Interview with John Childers:
Postgame Interview With Cayla Marshall:
https://ysnlive.com/wp-content/uploads/2023/07/B8222E4C-4498-4944-A75C-6DFD8EE6EF0E-scaled.jpeg
1778
2560
Anthony Hartwig
https://ysnlive.com/wp-content/uploads/2023/08/Default-Email-Signature-2673571-300x70.png
Anthony Hartwig
2021-11-20 06:13:59
2023-07-14 22:32:03
DEVILS FIND A WAY TO COMPLETE COMEBACK