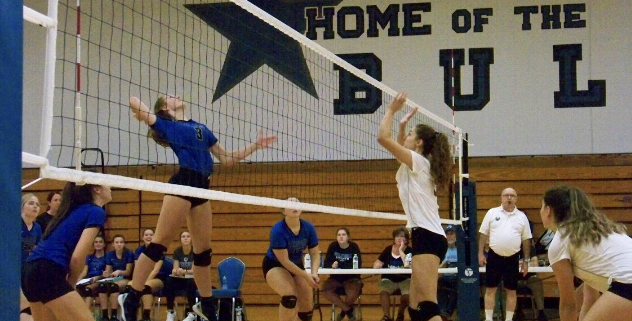 LAKEVIEW BLOCKS RAIDERS RALLY
The Raiders welcomes the reigning NE8 champions, Lakeview into their gym Thursday night. Although the Raiders gave the Bulldogs just their second lost set in league play this season, Lakeview still took the match in four sets (25-16 25-20 21-25 25-22)
The first set can be summed up simply to a poor hitting start by the Raiders. They could not stay away from unforced errors. The Raiders finished the set with three more errors than kills that led to a hitting percentage of -.097. Lakeview scored the last 7 points of the set and took it 25-16.
The Raiders cleaned things up dramatically in set number two. Anna Primavera and Abby George has huge sets. George had 4 kills while Primavera had 5. However, the Bulldogs were up for the task as Lexi Inman flexed her muscles and led the Bulldogs past the Raiders in set two 25-20.
The tough serving of the Raiders wore down Lakeview in set three. Emily Irons had been getting Lakeview out of system all night, but in set three she finally got some aces out of her jump serve. Her serve helped the Raiders score a 5 point rally to lead 13-4. After Lakeview fought all the way back to tie the set at 15, the Raiders took  back a commanding lead. This time the clutch points came from Anna Primavera who tallied another 5 kill set. The Raiders took a close set three 25-21.
The fourth set was extremely competitive. For a large part of the set neither team had a leaf greater than 3. Lakeview a blocking was the difference. It forced the Raiders into bad situations. The Bulldog block was led by Tara Lytle. Lytle was a force in the front row giving the Raiders fits all night. She got the big points when her team needed them and Lakeview was able to come away with a 25-22 victory in set four, sealing the match.
The Raiders were led on offense by  Anna Primavera with 13 kills, she also gathered 5 digs. Abby George also had a strong night with 9 kills and 2 blocks. Emily Irons had 31 assists, 6 kills, and 5 aces. Reagan Irons finished with 13 digs.
The Raiders return to action Monday as they travel to Mooney. Lakeview travels to Jefferson on Tuesday.
https://ysnlive.com/wp-content/uploads/2023/07/5E2B1E42-C5F1-48DA-9D9F-A0C0FE78AD61.jpeg
475
632
Anthony Hartwig
https://ysnlive.com/wp-content/uploads/2023/08/Default-Email-Signature-2673571-300x70.png
Anthony Hartwig
2019-09-20 02:09:36
2019-09-20 02:09:36
LAKEVIEW BLOCKS RAIDERS RALLY