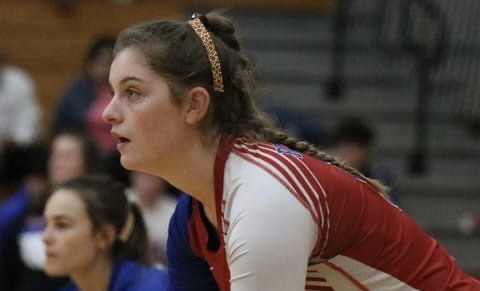 MOTHER KNOWS BEST; WESTERN RESERVE SWEEPS THE BULLDOGS
POLAND OH- It was the definition of a family affair on Monday as the Hughes family got together for some fun to open up the volleyball season. Aleah Hughes-Diamond is the head coach at Poland, while her mom, and younger sister Alexis are on the coaching staff for Western Reserve. Aleah's youngest sister Alyvia is a senior at Western Reserve. You know what they say? Mother always knows best. This reigned true as the Blue Devils swept their way through Poland for their first victory of the season (25-5 25-6 25-19).
Hughes was one kill away from a double double as she led the Blue Devils offense with 9 kills, and dug up 11 balls. Lisa Eichert was a solid swinger for Reserve as well finishing with 7 kills. She also collected 16 service points, and a pair of aces. Ally Jones led the defense in the back row with an impressive 15 digs. Abby Blair and Izzy Mauro both had a pair of blocks at the net.
Olivia Minehart led Poland with 5 kills, and Izzy Greco added 4. Bella Khoury played well in the back row gathering 9 digs. Mya Scott set up the offense well with 6 assists on the night.
Both teams are back in action on Tuesday as Western Reserve travels to Mineral Ridge for a big MVAC matchup, and Poland opens up NE8 play at home vs Struthers.
https://ysnlive.com/wp-content/uploads/2023/08/50B9641A-BEAD-4F47-B0C8-9EEBD7D826FE.jpeg
291
480
Anthony Hartwig
https://ysnlive.com/wp-content/uploads/2023/08/Default-Email-Signature-2673571-300x70.png
Anthony Hartwig
2023-08-21 21:32:59
2023-08-21 21:32:59
MOTHER KNOWS BEST; WESTERN RESERVE SWEEPS THE BULLDOGS