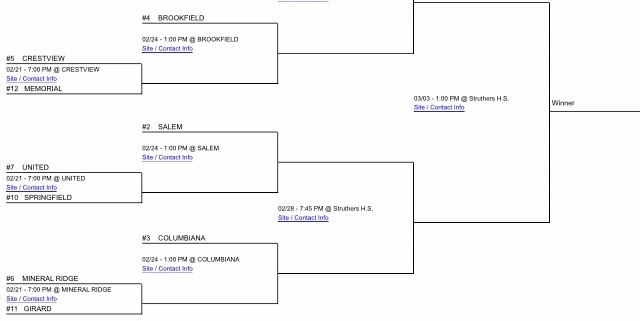 Bracketology: Girls Division III Struthers District
The statewide Girls Basketball tournament is set to begin on February 21st and the Struthers district has 5 YSN affiliate schools to keep an eye on. All team records in this story are from when voting started on Wednesday, January 31.
There are 12 teams competing in the district and the seeds are as follows
1 South Range
2 Salem
3 Columbiana
4 Brookfield
5 Crestview
6 Mineral Ridge
7 United
8 Canton Central Catholic
9 East Palestine
10 Springfield
11 Girard
12 Campbell
The top 4 seeds get a first-round bye. In the first round (top to bottom on the bracket) East Palestine travels to Canton Central Catholic. East Palestine is a program that has had no shortage of struggles in their past and an 8-13 mark is a step in a positive direction for the Bulldogs. Canton Central Catholic is sitting at 3-12 but play a very challenging schedule, much more so than Palestine. This will be an interesting match up as all 8 vs 9 games usually are. The advantage might go to Central Catholic as they have the home court advantage, but East Palestine is a program on an upswing and a new winning mentality. The winner of this game will travel to South Range.
The next matchup on the bracket is featuring Crestview hosting Campbell Memorial. The Rebels have to be happy with a 5 seed sitting at a 12-4 record. The Red Devils are the last seed of the tournament, a difficult year has them at a 1-15 record. They do however bring athleticism to the table. For the Rebels to win they'll have to use their advantage in the half court and not get in a back and forth running match with Campbell. The winner of this game will travel to Brookfield.
The next matchup is United hosting Springfield. These two programs know each other very well being old ITCL rivals. United comes in with a record of 10-7 looking to finish the season with a winning record and get their program back on the map. From 2009-2013 the Eagles won 5 ITCL championships in a row and won 3 district titles. Springfield has a record of 6-10, a difficult year but they are a young team that can really grab momentum if they get off to fast start. The winner of this game will travel to Salem.
The final first-round matchup is Mineral Ridge hosting Girard. Mineral Ridge has a record of 8-9 but are nothing to look past as a six seed. The Rams are a very physical team that wins on nights they outrebound their opponents. They're a team that played a very close game against Jackson Milton the one seed in Division IV Mineral Ridge district. Girard is 4-11 and is a team that can definitely shoot from the perimeter. If they catch fire they are primed for an upset. The winner of this game travels to Columbiana.
As we look on to possible matchups as the district plays out, the top 4 seeds will look to avoid a sectional upset and play at Struthers for a district championship.
South Range comes in as the one seed and favorite of the district. They have a record of 15-2.
Strengths: The Raiders have a balanced offense with 3 scorers averaging double figures. The Raiders hang their hats on defense giving up just 45 points a game. The Raiders can score in different ways, they shoot 30% from three, but also have a post who averages 10 points a game.
Weaknesses: The Raiders don't have a deep bench. They usually play a seven-player rotation at most. They can't afford to get into foul trouble. The Raiders don't shoot particularly well from the free throw line. As a team, they shoot 55%. If a game comes down to hitting free throws the Raiders may struggle.
The 2 seed in the tournament is Salem. The Quakers have a record of 12-4.
Strengths: Physicality. The Quakers might be the best rebounding team in the tournament. Their energy gives them the opportunity to get plenty of 50/50 balls. Salem is well coached and don't put teams on the foul line a lot. To beat them a team has to earn their points
Weaknesses: Finding other ways to score. When Salem gets their inside game taken away they struggle to score. Defenses will look to make them one dimensional. Transition defense, Salem has a tendency to get beat down the floor at times off of live ball turnovers or long rebounds. The Quakers will look to control the pace of the game and stay out of running matches.
Columbiana is the 3 seed in the bracket and has the best record with a 16-1 mark.
Strengths: scoring offense, the Clippers know how to score. They have several games above 70 points this season and even a couple in the 90's. Defense. The Clippers don't let High powered offense stop them from playing tough defense. The combination of both has led to lopsided scores.
Weaknesses: Size. The Clippers are a smaller team when it comes to size and may struggle against teams with height advantages. Weaker schedule. The Clippers have not played the areas toughest schedule, they've played more division IV teams than any of the other top 4 seeds. Their only loss of the year came to Salem. They might not be as used to playing at the talent level the other top 4 seeds are.
Brookfield is the 4 seed in the bracket and their record is 12-3.
Strengths: Defense. The Warriors win with their defense, holding plenty of opponents to under 40 points this year. Controlling the pace of play. Brookfield slows the game down and limits the other team's possessions which contribute to their defensive numbers
Weaknesses: Scoring consistently. The Warriors have a tendency to go through scoring droughts. Against the top level of competition in this bracket, they can't afford to go 3-4 minutes without scoring. Pace. Although slowing the game down is an advantage for the Warriors, the pace of the game can quickly turn into a disadvantage if it speeds up. The Warriors need to avoid a shootout with teams. They don't have the offensive firepower to let games get into the 60-70 point range.
This district is very interesting. The top 3 seeds all had strong arguments for being the top seed of the bracket. Columbiana has the best record, Salem has victories over Columbiana and South Range, and South Range has a very tough schedule and a good resume. All the teams will be motivated to prove they are the best.
My teams to watch for an upset: Crestview is a strong 5 seed with plenty of talent on the floor, they'd have to take care of business at home against Campbell of course but a road trip to Brookfield awaits them if they do, a game I can see them winning. Mineral Ridge is another team to watch. If they get out of the first round they will take their physical gameplay to Columbiana to play a talented but undersized Clipper team.
These teams have two weeks to fine-tune their roster before the madness begins on February 21st. Keep your eye out for exclusive coverage only on YSN!
https://ysnlive.com/wp-content/uploads/2023/07/IMG_1930.jpg
701
640
Anthony Hartwig
https://ysnlive.com/wp-content/uploads/2023/08/Default-Email-Signature-2673571-300x70.png
Anthony Hartwig
2018-02-07 21:34:12
2018-02-07 21:34:12
Bracket Breakdown