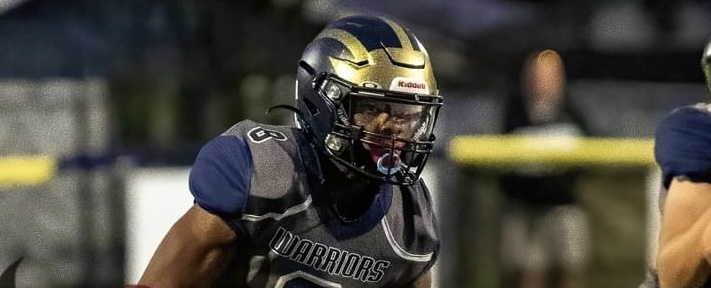 BROOKFIELD BASHES THROUGH MVAC OPENER
BROOKFIELD OH- Brookfield made a resounding statement as they opened up MVAC play with a commanding 40-7 victory over Champion. The first quarter set the tone for Brookfield's dominance, with Christian Davis catching a 20-yard touchdown pass from Josh Rankin, putting Brookfield ahead 7-0.
In the second quarter, the Brookfield offense continued to shine, led by Rico Smith, who broke free for an electrifying 80-yard touchdown run, extending their lead to 14-0. Smith wasn't done yet, adding another impressive 33-yard touchdown run, though the extra point was no good, making it 20-0. Brett Carsone joined the scoring frenzy with an 11-yard touchdown pass from Rankin, bringing the score to 26-0 at halftime.
The third quarter continued to favor Brookfield as Carsone and Rankin connected again, this time for a 27-yard touchdown pass, increasing the lead to 33-0. Champion managed to find the end zone in the fourth quarter, with Christian Williams throwing a 4-yard touchdown pass, and Conner McDermott converting the extra point, closing the gap to 33-7.
However, Brookfield had the last word, as Christian Davis hauled in a spectacular 55-yard touchdown pass from Rankin, sealing the deal with a final score of 40-7.
The Brookfield stats showcased a stellar performance, with Rankin completing 9 of 15 passes for 153 yards and 4 touchdowns. Rico Smith powered the ground game with 163 yards on 12 carries and 2 touchdowns, while Christian Davis displayed his receiving prowess with 6 receptions for 108 yards and 2 touchdowns. This impressive win marked a strong start to MVAC play for Brookfield, demonstrating their offensive firepower and solidifying their position as a formidable football team.
https://ysnlive.com/wp-content/uploads/2023/09/0CF4C2A5-4C3E-4324-8A24-D4EFDB6720B8.jpeg
288
711
Anthony Hartwig
https://ysnlive.com/wp-content/uploads/2023/08/Default-Email-Signature-2673571-300x70.png
Anthony Hartwig
2023-09-10 19:58:54
2023-09-10 19:58:54
BROOKFIELD BASHES THROUGH MVAC OPENER