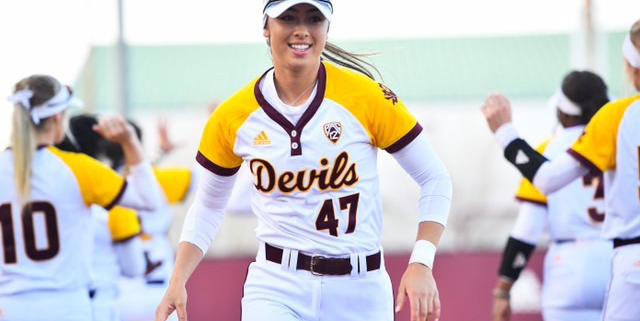 HOT CORNER WITH SPECIAL GUEST MORGAN HOWE
Welcome back softball! Yes that is right, softball season is back. The collegiate level of softball is in full swing, and the high school season in the state of Ohio is about to begin. With a new season comes the return of the Hot Corner on YSN. Over the summer, the Hot Corner was your place for coverage of travel softball in the area, and the high school season will be no different. This blog will serve as a source for all our fellow softball fans to get in depth coverage of the YSN softball teams. We will go beyond the story recaps to dive in to the big matchups, the amazing plays, and the key wins every week on the Hot Corner. Along with weekly recaps and analysis another section of this blog i am particularly excited about is staying updated on YSN alums in college. Loyalty is a pillar of the YSN brand and this blog will stay loyal to the players we have covered that have gone on to continue their careers at the next level. Finally as always the Hot Corner will end with a special guest from the softball world that will share their experiences and knowledge with our fans. We had tremendous guests join us over the summer that played on national teams, played in national championships, coached power 5 programs, and much more.
High School Preview
So here as we get started on the Hot Corner let's get a preview of the upcoming high school softball season. I will say this particular season might be the hardest to predict and preview that we have ever seen,. Rosters are dramatically different than when we last saw these teams during the 2019 season. To really get a grasp on where these programs might land, you have to look at the top. Which programs have coaches that have been there, done that and will be able to quickly evaluate their roster and adjust accordingly. A handful of coaches come to mind, and of course it has to start with Cheryl Weaver at Champion. Weaver has been able to build a dynasty with the Golden Flashes. In 2019, they won their third consecutive state championship and they did not allow a single run in their tournament journey. Coach Weaver has won 6 state titles as the head coach of Champion. Now of course a big part of that was their pitching combo of Allison Smith, and Sophie Howell who are now at Ohio State, and YSU respectively. Champion fans should not blink at that though, because Coach Weaver very rarely doesn't have an ace in her back pocket. The Flashes would be going for their fourth straight state championship, in an unconventional way admittingly, skipping 2020 like everyone else. Champion returns a couple standouts from 2019, including Emma Gumant, and Brooke Witt, joining them returning from 2019 and will also be captains are Lauren Fife, and Cassidy Shaffer.
Staying in division three, Jeff DeRose, and Greg Eskra are both helming successful programs, that have shown they are more than one season wonders. Eskra and the Rebels will have a young talented squad, with a seasoned ace in the circle. Junior Kaedyn Sutton led the Rebels to a district championship game in her freshman season. She may have missed her sophomore season, but she got plenty of experience over the summer in travel ball. Kaedyn won more games than anyone in her conference in 2019 with 16 wins as a freshman. She will be a problem in the circle for anyone who steps in against the Rebels. Jeff DeRose has been leading a successful program at South Range for quite some time, and I don't expect that to change this year. The Raiders are young as far as high school experience goes, but a majority of their roster plays travel ball, and got plenty of reps over the summer against quality competition, Bree Kohler will step into the circle for her senior season already owning a chunk of offensive, and defensive records at South Range. The YSU commit has really sharpened her pitching as the years have gone by. She brings plenty of velocity to the table, but her change in speeds is what makes her so hard to hit off of. Reagan Irons should add a good 1-2 punch in the circle for the Raiders as well, that has been something they have missed in the past years, relying heavily on Kohler caught with them at times. Samantha Susany has already looked impressive in scrimmages as she took Austintown Fitch's Lydia Spalding out of the park twice in their scrimmage.
Speaking of Fitch, they will be another team to watch out for as they have a ton of talent on their roster. Coach Ward leads a Falcons team that can shut you down in the circle with Spalding who is locked in to play for Penn State next year, they can also beat you up at the plate with hitters like Maddy Taylor, and Sophia Senediak. Although Fitch plays in a very tough conference with the likes of teams like Boardman, Howland, and Canfield, i expect them to have a very successful season.
Another team like Champion who is coming off a state championship is Louisville. The Leopards won a dramatic 10 inning thriller to secure the 2019 state championship. Sydney McKeever is unfortunately another star from a championship that lost her senior season to the pandemic. But the Leopards still have plenty of reasons to be optimistic.. They have strength in the circle with Kendra Thomas, and an offense that put up 11 runs in their last scrimmage. Brooke Brendle looked impressive at the plate in that game with 3 RBI. Kaylee Nolte will also be returning for the Leopards. She was on fire during the Leopards tournament run in 2019. To see a preview of more teams, every YSN team in fact, check out YSN's series "Headed Home" which will have a preview of every softball and baseball team in the YSN family.
YSN Alums
*All stats and numbers are as of March 26th
We will be staying updated on YSN alums as they play in college all season long. This week I want to update everyone on Champion's aces Allison Smith, and Sophie Howell who are both making immediate impacts in the circle for their teams. Allison Smith has already started 5 games, and appeared in 10 for Ohio State. The Buckeyes are playing a conference only schedule this season, but the Big 10 has not intimidated Smith. She leads the team in ERA with a clip of 1.64. She has struck out 42 batters already early in her freshman season. Smith also has 3 complete games to her credit, and a save. Sophie Howell is another former Golden Flash that is making an immediate impact in the circle as a freshman. For Youngstown State, Howell has thrown 23.2 innings for the Penguins, who are very deep in the circle. Howell has started 4 games for the Penguins and a record of 2-2 with an ERA of 4.73. That ERA can be a bit inflated with lower innings pitched. Howell has 22 strike outs and just 7 walks on the year so far. Also with YSU, former Cardinal Mooney catcher Conchetta Rinaldi has started 16 out of the 18 games the Penguins have played. Rinaldi has a batting average of .275 right now and has hit a HR with 4 RBI. Former Poland Bulldog Kaili Gross has appeared in two games for Case Western Reserve and has an ERA so far of 2.33 with 4 K's. We will stay up to date on more, and more softball alums as the season goes along and more teams get into full gear. Several college teams have just now started their season. If you know of a YSN alum that is doing well in the college ranks be sure to let us know on the YSN socials and I will make sure to add them to the blog.
Special Guest: Morgan Howe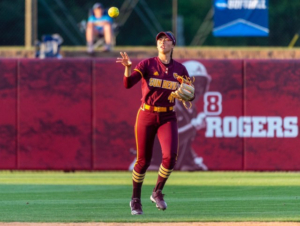 Morgan Howe was a guest on the Hot Corner last summer as she was getting ready to start her professional career with Athletes Unlimited. She has quickly become a big supporter of the blog as the summer went on, so what better way to kick off the new season than by catching up with her. To say she had a successful venture into the professional ranks would be an understatement. Morgan got 51 at bats over the season, and hit .333. She also gathered 3 HR's and 12 RBI. Morgan says the ability to grow and learn with some of the world's best players was an unbelievable experience. She has had a hectic offseason, as she went from her time with AU to Florida to join the Gators as a graduate assistant. She got a call asking her to join the FGCL (Florida Golf Coast League) in a trip to play in Spain. Forced to make a difficult decision Morgan stepped away from the Florida position for the chance to continue playing, and travel to Spain.
In college, Morgan split her time between Fresno State, and then transferring to Arizona State. As a Sun Devil, Howe hit a career clip of .380. She hit 20 HRs and hit in 103 RBI. Howe was named 2nd Team All-Pac 12 in 2018.
[embedyt] https://www.youtube.com/watch?v=ZrDP3zXb4uk[/embedyt]
https://ysnlive.com/wp-content/uploads/2023/07/D7F2B1CB-65B2-4D97-B3BE-9B7C38ABB5A1.jpeg
426
640
Anthony Hartwig
https://ysnlive.com/wp-content/uploads/2023/08/Default-Email-Signature-2673571-300x70.png
Anthony Hartwig
2021-03-30 17:40:47
2023-07-14 20:00:43
HOT CORNER WITH SPECIAL GUEST MORGAN HOWE